Kara Dillard is an Assistant Professor at James Madison University in the US. She is also the operations specialist for Common Ground for Action (CGA), an online variant of the National Issues Forum (NIF).
In this episode, Kara explains this short-form process, as well as its strengths and challenges. As a moderator training specialist for NIF she offers insight into the difference between online and face-to-face facilitation.
Links
Amy Lee, Department of Political Science, Ohio State University
---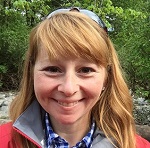 Assistant Professor in Digital Democratic Practice in the School of Communication, a Research Associate at the Charles F. Kettering Foundation, Director of Research for the JMU Institute for Constructive Advocacy and Dialogue (ICAD), and the operations specialist for Common Ground for Action and a moderator training specialist for the National Issues Forums Institute. 

Dr. Dillard is an expert in online deliberation, having developed innovative programming and curriculum to convene civil discussions using the Common Ground for Action online deliberation platform. Dr. Dillard works in university settings and with community organizations to design public engagement processes that help groups address local, wicked issues both face-to-face and online. As a professionally trained facilitator she has convened and moderated over 100 deliberative dialogs across a series of topics on her campus, in the community, and online.
---
Music acknowledgement.