Dr Kath Fisher is an extremely experienced professional facilitator. She is also an academic at Southern Cross University (Lismore, Australia). In this episode, Kath shares some of her journey and offers a number of useful techniques that she uses routinely in public deliberations.
Resources:
---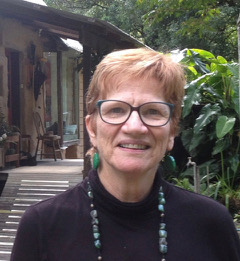 Dr Kath Fisher is a professional facilitator, academic and trainer and has been an academic at Southern Cross University (SCU) since 1995. Kath has become a specialist in community engagement using deliberative democratic processes and is one of Australia's most experienced facilitators and process designers in this field. Much of her experience has been designing and facilitating small and large-scale deliberative processes dealing with sustainability and climate change, specifically the NSW Climate Summit, World Wide Views on Global Warming, the Local Voices project with councils in regional Victoria and a citizens' jury on climate action planning in Ballina. Kath designed and facilitated a citizens' jury for Lismore Council's Imagine Lismore consultation process in 2012 and designed and facilitated deliberative processes for SCU's university-wide consultation process SCU+20 in 2015. Most of Kath's consultations with local councils, most recently with Bellingen Shire Council in 2017, include building capacity through training staff in facilitation skills.
Kath is also engaged regularly to design and facilitate meetings, strategic planning workshops and staff consultation processes in community, government and university settings, most recently with the Institute for Sustainable Futures at the University of Technology Sydney in February 2018.
Kath has been a lecturer at Southern Cross University since 1995, starting out teaching group processes to undergraduate students as part of the Bachelor of Social Science. Kath's teaching style is very much workshop-based and founded on sound facilitation and experiential learning principles. She currently mentors postgraduate students at SCU's Gnibi College of Indigenous Australian Peoples and is an Adjunct Fellow with the Vice President, Engagement. Kath has lived on an intentional community on the North Coast of NSW for thirty years, where much of her expertise in facilitation and group processes is practised on a regular basis.
---
Music acknowledgement.