Justice Mary Laffoy and the Citizens' Assembly have done the State some service in terms of determining future approaches in law on abortion – and their deliberations must be listened to and acted upon.
The Assembly voted to repeal Article 40.3.3 and proposed that a new constitutional provision be inserted granting the Oireachtas exclusive power to make laws on abortion.
Having done that, the Assembly was then charged with providing recommendations as to what reasons, if any, there should be for termination of pregnancy to be lawful in Ireland. Those recommended reasons were set down and voted upon in Ballot 4B on Sunday.
Deliberate democracy
The Assembly engaged in a process of deliberate democracy so that at the final session – having read and heard all the expert opinions and data – the citizens themselves shaped the final draft of the recommendations which would appear on the ballot paper 4B.
As a result, the pre-weekend ballot draft with eight reasons/grounds for abortion had been extended to 13 by Sunday morning.
This further elaboration of reasons was very important, as it takes into account the reality of abortion among Irish women. In 2015, some 3,451 Irish women had abortions in the UK while 26 had legal abortions in Ireland.
A careful analysis of the Assembly's reasons and their voting reveals a more nuanced result than popular media present, one in which we can locate people on a continuum which stretches from a very small group who cannot support abortion under any circumstances to those who think that there should be no restrictions on abortion.
The 13 reasons given on Ballot 4B had five response categories. The first one was, in response to particular scenarios, "Never for this reason".
To ensure citizens' views were accurately recorded, the last response option allowed a place for those who "prefer not to state an opinion". The number of citizens who voted this way under each of the 13 reasons varied from three to six.
Gestational stages
In my analysis, I treat the latter as not supporting abortion for the reason cited. Between these two columns, citizens were given the opportunity to vote in favour of abortion at one of three different gestational stages, ie – at up to 12 weeks, at up to 22 weeks, or with no restrictions on gestational age.
The first two reasons on Ballot 4B gave current reasons for legal abortions in Ireland. Ninety-three per cent of citizens endorsed these and voted in favour of cases where there is (1) "Real and substantial physical risk to the life of the woman", while somewhat fewer (90 per cent) supported abortion in cases of (2) "Real and substantial risk to the life of the woman by suicide".
The next six reasons on the ballot sheet extended the reasons for which a termination of pregnancy might be lawful in Ireland: (3) serious risk to the physical health of the mother, or (4) her mental health or (5) or her heath in general.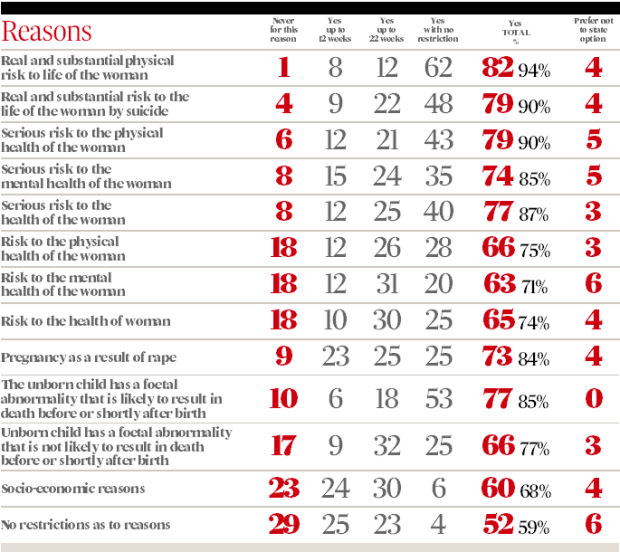 Eighty-seven per cent, 85 per cent and 87 per cent respectively agreed with these being recommended as grounds for abortion. These voting patterns are a strong indicator of the rights of pregnant women, consistent with full autonomy.
However, when "serious" is removed from the same reasons, for example (6) risk to the physical health of the woman, (7) mental health and (8) health, the level of support declines to 75, 72, and 74 per cent.
The number who voted "never for this reason" goes up to 18 as compared to only 10 who opposed "serious risk".
Debate on risk
These differences are quite considerable. They show a discerning group of citizens and give a foretaste of future debate on risk and who defines it.
"Pregnancy as result of rape" was reason 9. The Assembly had heard several papers on cases of rape in Ireland – 73 citizens of the 86 (or 84 per cent) agreed with legal abortion as a result of rape.
There was some discussion at the Assembly as to why incest was not included, but the team advised that rape in this context included incest.
However, nine citizens voted that rape should never be a reason, while four preferred not to state an opinion.
Foetal abnormality
As we are aware, one of the most difficult and public discussions on extending the grounds on which abortion is granted in Ireland related to foetal abnormality.
In this instance, Assembly members were asked whether they would agree to legalised abortion in cases where the "The unborn child has a foetal abnormality that is likely to result in death before or shortly after birth", 10 citizens said that should never be a reason for an abortion and the other 77 citizens (88 per cent) supported this as grounds for abortion, 53 of whom said it should be available at any gestational stage.However, in the case of reason (11), ie, "The unborn child had significant foetal abnormality that is not likely to result in death before or shortly after birth", 17 opposed this as grounds for an abortion while three abstained. Sixty-six, or 76 per cent, agreed with it.
Media cover
Reason 12 on the ballot paper – abortion on grounds of socio-economic reasons has generated a lot of media cover.
It is important to note that the citizens themselves were active in relation to getting this included on the ballot paper – it was not on the pre-weekend draft of Ballot 4B.
There were several question-and-answer sessions and discussions over the weekend. Some mentioned a "crisis pregnancy", and after some discussions reason 12 was included as capturing that concept.
Twenty-three citizens voted that socio-economic reasons should never be grounds for abortion, four preferred not to state an opinion, and 60 members, or over 68 per cent, voted that this be recommended as a reason.
Finally , 52 members, or almost 60 per cent, supported the final reason (13) – "No restriction as to reasons" for abortion.
Emotionally draining
It was very obvious from the start that if Justice Laffoy is given a job to do – even one as complex as this one – she sees it through to the end. The citizens worked very intensely on an issue that is emotionally draining and intellectually complex.
She gave great leadership on this issue and organised a vast set of evidence-based data from conflicting views.
The citizens themselves set out the broad parameters of the debate in a responsible manner and are to be thanked for doing so.
As one Assembly member remarked, "Will they [the Oireachtas] hear or heed us?"
We must ensure that they do.
---
Evelyn Mahon is a Fellow Emerita of the School of Social Work and Social Policy at Trinity College
---
Photo Caption. Voting at the Citizens' Assembly: Justice Mary Laffoy and the Citizens' Assembly have done the State some service in terms of determining future approaches in law on abortion – and their deliberations must be listened to and acted upon. Photograph: Nick Bradshaw