RECENTLY I was contacted by The Daily Telegraph's Andrew Clennell about a story on the number of younger than average people who are ministers in Premier Gladys Berejiklian's Cabinet.
A range of ages is a good thing and nothing to be concerned about. What concerns me is the lack of breadth of experience we find in parliaments everywhere. Politics has become professional — too professional. A conveyor belt of people come out of student politics, land jobs as ministerial advisers and then become the next generation of MPs. I don't blame them.
This is the most efficient way to navigate our political system, and they do it well. But we need to find a balance.
This narrowing of life experience is contributing to the sense that politicians aren't just other people like us who have come out of a trade, out of a business or from a profession to bring that experience and perspective to shared decision making. And that ­diversity matters — not only to making higher quality decisions by being grounded in practical experience, but also in terms of earning wider community trust in the eventual decision.
In all aspects of life there will be a need to take unpopular decisions from time to time. It matters that you trust the person taking that decision or there will always be a temptation ­simply to wait for the next person promising you the world and supporting them instead. But you can't run from reality forever.
On the Saturday of the last federal election in July, the new Democracy Foundation put out an open offer to fund a jury of citizens to answer the question "how can we do democracy better?". I think answering this question is more topical than ever. And ­unlike so many people in the "complaining about politics today" camps, the Foundation is offering $5 million to pay for what they ask. It just needs the parliament to agree to spend one day responding to this view from the people. One day when the system ­responds to the people about the rules of the game and how to improve them.
A jury process would take around 40 citizens at random — people you see on the bus or reading this paper over a coffee — and give them the chance to understand in detail how our democratic systems work and ask them to make recommendations they can all live with.
I don't know what they'll come up with, but I'm curious to see it. Andrew, worry less about their age. Worry more about how we get the people reading this paper right now — people of all ages and background — involved in the hard public decisions we need to face.
Nick Greiner was premier of NSW from 1988-1992.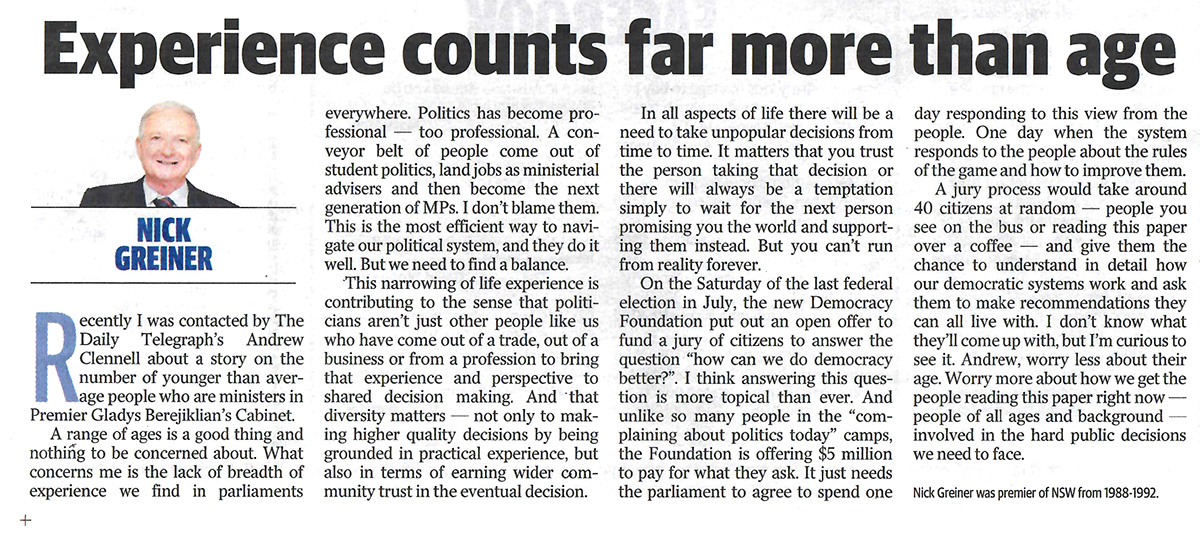 By Nick Greiner, The Daily Telegraph, Opinion